Currently, the most active advocate for banning magnet sphere sets for adults is Connecticut Senator Richard Blumenthal.
On 12/20/19, Senator Richard Blumenthal introduced into Congress a clone of the previously repealed magnet ban. Regardless of the fact that high powered magnet balls cannot be sold as kids toys, the CPSC has not been enforcing the hazardous magnet restrictions of the ASTM F963 toy safety law since 2016. Subsequently, the market has been flooded with unlabeled magnet sets sold as kids' toys and magnet ingestion cases are on the rise.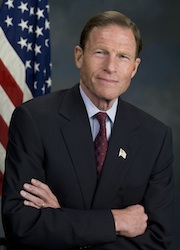 Contact Blumenthal and let him know that you think magnet sphere sets should continue to be sold for adults, and the answer is a new industry standard with clear labeling and warnings.
Call him at (202) 224-2823
Email him here
Snail mail one or all of his offices:
90 State House Square 10th Floor Hartford, CT, 06103
915 Lafayette Blvd., Suite 304 Bridgeport, CT, 06604
706 Hart Senate Office Bldg. Washington, DC, 20510
Responsibility is the price of freedom.

-Elbert Hubbard